Charley AI Essay Writer Review
Understanding Charley AI Essay Writer
Charley AI is an AI-driven writing assistant that boasts the ability to generate essays and research papers on a multitude of topics. While there are several AI writing tools on the market, Charley AI distinguishes itself with its emphasis on understanding the subject matter and crafting essays that not only meet grammatical standards but also exhibit a deep comprehension of the topic.
The Customization Advantage
One of the features that immediately caught my attention is Charley AI's level of customization. This tool allows users to fine-tune its functionality to match their unique writing style. This means that the content generated by Charley AI doesn't feel like it was created by a machine; instead, it adapts to your voice and preferences. This level of customization sets Charley AI apart from other similar tools, making it an ideal companion for writers who want their work to maintain a personal touch.
Seamless Research Integration
Charley AI, however, takes the pain out of this process. Using AI, it searches the internet for relevant sources, extracts crucial information, and seamlessly incorporates it into your essay. This feature streamlines the research process, saving writers valuable time and energy that can be redirected toward crafting compelling arguments and refining their analysis.
Addressing the Plagiarism Concern
Plagiarism is a significant concern in academic and professional writing, and Charley AI recognizes this. The tool provides citation suggestions and conducts plagiarism checks to ensure that the content generated is both original and properly cited. This commitment to upholding academic integrity instills confidence in the quality and authenticity of the work produced.
User Experience and Interface
Charley AI boasts an intuitive and user-friendly interface. Whether you're a seasoned writer or a beginner, navigating the tool is a breeze. Its clean layout and straightforward options make it accessible, even for those who may not be tech-savvy.
Real-Time Assistance
One of the highlights of using Charley AI is the real-time assistance it provides. As you write, the tool offers suggestions for improving sentence structure, grammar, and vocabulary. This immediate feedback is invaluable for writers looking to hone their skills and produce polished content.
The Impact on Writing
Charley AI brings several tangible benefits to the writing process. First and foremost, it significantly enhances efficiency. Writers can complete assignments in less time, freeing up more room for other tasks or relaxation. The tool's real-time assistance also leads to improved writing quality, helping users produce work that stands out.
Alternative websites to Charley AI Essay Writer
No Trustpilot Reviews
One of the bad things we found about charley ai essay writer is that it has no Trustpilot reviews yet.
It is a good practice to check reviews of saas tools on Trustpilot before.

Pricing Structure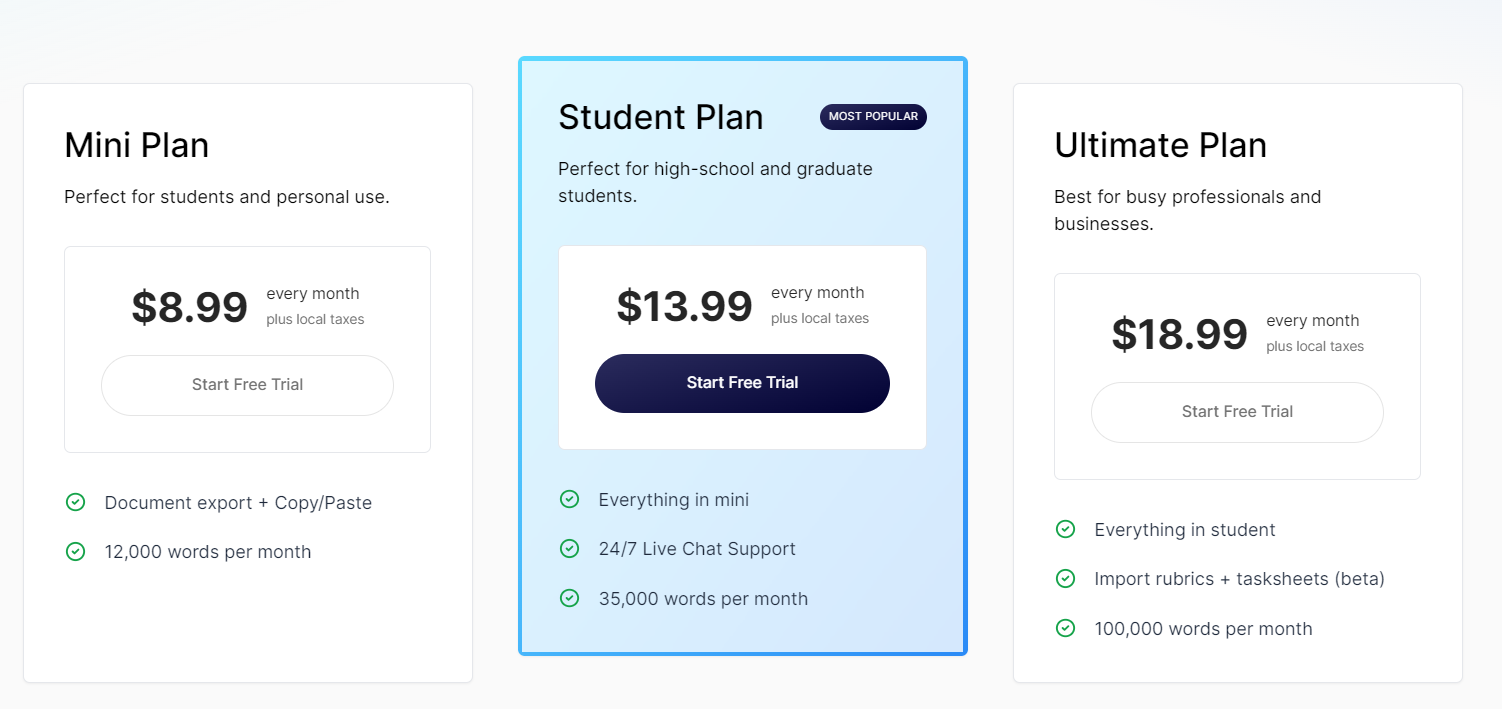 Now that we've delved into the capabilities and advantages of Charley AI Essay Writer, it's essential to consider its pricing structure, a crucial factor for users contemplating whether to invest in this AI-powered writing tool.
Flexible Pricing Plans
Charley AI Essay Writer offers flexible pricing plans to cater to a diverse range of users, from students to professionals and beyond. The pricing structure is designed to accommodate different needs and budgets, making it accessible to a broad audience.
Free Trial
For those who want to explore the tool's capabilities before committing, Charley AI provides a free trial period. This trial period allows users to experience the core functionalities of the tool and assess whether it aligns with their requirements. The free trial is an excellent way to get a feel for how Charley AI can streamline the writing process and improve the quality of your work.
Subscription Plans
Charley AI's subscription plans are available on a monthly or yearly basis, offering users the flexibility to choose the duration that suits them best. Subscribers gain access to the tool's full suite of features, including real-time assistance, research integration, and plagiarism checks.
Affordable Options for Students
Recognizing the financial constraints often faced by students, Charley AI offers discounted pricing specifically tailored to the academic community. This student-friendly approach ensures that students can benefit from the tool's assistance without breaking the bank.
Transparent Pricing
Charley AI's pricing structure is transparent, with no hidden fees or surprise charges. Users can easily understand the costs associated with their chosen subscription plan, contributing to a positive overall user experience.
Conclusion and Minor Shortcomings
While Charley AI Essay Writer offers a host of advantages, it's essential to acknowledge its minor shortcomings. There may be instances where you'll need to make minor revisions to align the generated content precisely with your specific requirements. However, these revisions are generally minimal compared to the substantial assistance Charley AI provides.
Charley AI Essay Writer is a valuable addition to the toolkit of any writer, whether you're a student, a professional, or a seasoned author. Its user-friendly interface, customization options, real-time assistance, and research integration capabilities make it a smart companion for writers seeking to improve productivity and the quality of their work. Give it a try, and you'll likely discover, as I did, that Charley AI is an indispensable asset in the world of writing.